I.Scenic spots introduction
[Gucheng Lake Tourism Resort]
Located in the west of Nanjing Gucheng Lake, it covers an area of more than 8000acres, which is a demonstration project ofGaochun District's transformation from traditional agricultural industry to tourism and modern agriculture. With a good geographical location and convenient transportation, it isa holiday destination integrating science education, ecological sightseeing, water entertainment, water sports and leisure vacation. The park has a variety of lakeside flower sea,the wedding garden full of romantic atmosphere, mysterious reed marshes, delicate and soft golden beach, Xiyu Valley forparent-child, wetland zoo forwater tour,adventure park, interesting Shouting fountain, floating on the water and other attractions.
[Gaochun Old Street]
The national 4A scenic spot, known as "the first Old street of Jinling", Gaochun OldStreet, has a history of more than 900 years since theSongDynasty.GaochunOldStreetflourished in the Ming andQingDynasties,emperorQianlong once called here "famousJiangnan" when he went to Jiangnan. It is the best preserved ancient architectural complex in east China and the best preserved ancient street in Ming andQingDynasties inJiangsu, with a total length of more than 800 meters.
II. Schedule
Let's get together in the morning and set out happily
Arrive atGaochun Old Street in the morning, gather and take photos. VisitOldStreet.
11:30 ArriveHubian Renjia restaurant for dinner
12:30 Arrive atGucheng LakeTourism Resort, gather and take photos
13:00-15:00 Visit Gucheng Lake Tourism Resort scenery: wetland zoo science, reed marshes, Xiyu Valley, Lotus Garden, etc
16:30 Gather out of the garden, happy return journey
III. Features of the trip
1. A sea of tulips
Tulip is cultivated all over the world, and it is the national flower of Holland, New Zealand, Iran, Turkey,Turkmenistan and other countries. It is known as the world flower and has become a symbol of fashion and internationalization. Among them, red, yellow and purple are the most popular. And inCittaslow, there are tulips planted in all three colors.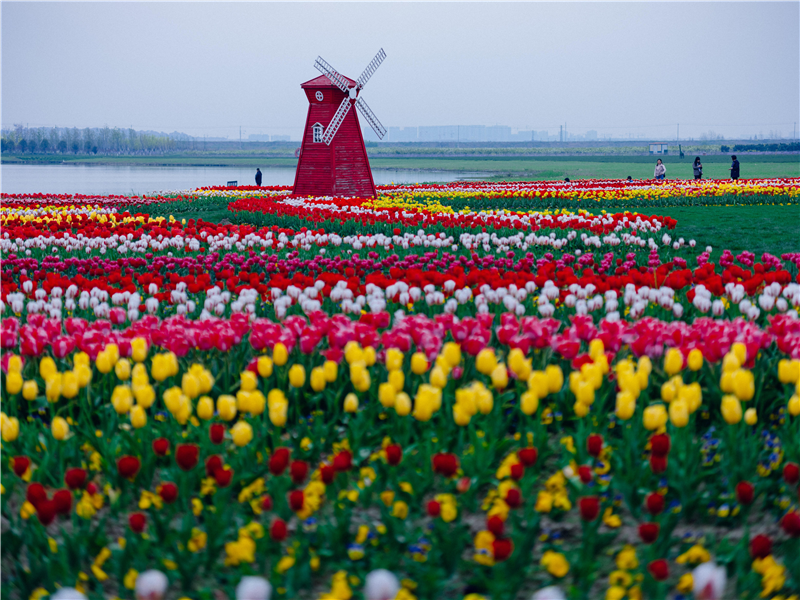 2. FunExpansion park
Expansion park is a healthy and fashionable outdoor experience,which is the perfect combination ofsports, expansion,entertainment and education,it is designedfor children who like drilling, climbing, sliding, rolling, hanging, swinging, jumping,shaking, etc , Through scientificthree-dimensional combination, it forms an activity center that integrates amusement, sports,puzzle, fitness.
3. Wetland zoo
Covering a total area of 243,000 square meters, it consists of a crocodile hall, a beast hall, a primate hall, a herbivore hall, a flamingo garden, a parrot hall, a crane garden, a swan lake and a peacock garden.